Take On A Wide Range Of High-Energy Classes In Our Kids Martial Arts Program
At Toole Martial Arts Academy, we are proud to offer students of all ages a well-rounded approach to martial arts training and character development. Our Kids Martial Arts program has classes for all ages and abilities, helping students challenge themselves and have a blast in the process.
Our classes include Kids Kickboxing, Kids Brazilian Jiu Jitsu, AND Anti-Bullying instruction.
Join us in Toole and give your child the best chance to thrive. Just fill out the short form on your screen to get started today!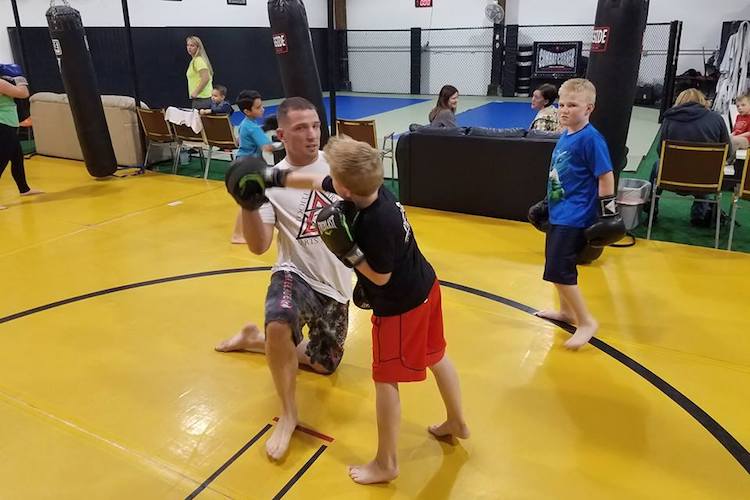 The Best Kids Martial Arts Training For Students All Across Tooele
We know that no two students train the same. That's why we go above and beyond with high-level classes in multiple martial arts disciplines. Our Kids Martial Arts program gives students of all backgrounds a fun way to stay active. We surround every child with supportive instruction and individualized coaching.
Join us at Tooele Martial Arts Academy for:
Kids Kickboxing: This high-energy program combines all the fun aspects of striking and balance with a heart-racing workout that builds a great foundation of athleticism. Kids Kickboxing is perfect for complete beginners and experienced athletes alike. Your child can develop:
Speed and agility
Coordination
Total-body strength
Kids Brazilian Jiu-Jitsu: BJJ is quickly becoming one of the most popular martial arts disciplines for students of all ages. This ground-based system is perfect for self-defense training and the competition setting. Our Kids BJJ students build:
Flexibility and mobility
Incredible reflexes
Self-defense strategies
Anti-Bullying: Bullying is a problem for young students all across the country and we're doing our part to put an end to it. Our Anti-Bullying program builds students up with effective communication skills and unwavering self-confidence. Your child can learn:
Conflict resolution skills
Pride in everything they do
Strategies for any situation
PLUS, Our Kids Martial Arts Training Is Designed For Lifelong Success
The physical aspects of our training are great. They help students establish a lifetime of physical activity.
But we're also aiming to do so much more.
At Toole Martial Arts Academy, we want our Kids Martial Arts students to walk away better prepared for anything life throws their way. We're surrounding them with positive role models and helping them overcome a new obstacle every single class.
We're helping students across Tooele and beyond:
Develop leadership and teamwork skills
Improve their focus and attention to detail
Establish perseverance in everything they do
Walk away with an incredible sense of accomplishment
See It For Yourself! Our Kids Martial Arts Classes Are Perfect For Everyone In Tooele!
If you're ready to give your child a new way to stay active and have fun with new friends, come see us in Toole today! Our Kids Martial Arts classes are designed to meet the needs of every child in our community and we're excited to show you why.
Just fill out the short form on your screen to get started or to learn more about everything we have to offer at Tooele Martial Arts Academy!